Fortnite is one of the most talked about games of the moment. A competitor in the PUBG category, it differs from this by bringing more playful graphics and the possibility to build things in the game, in a similar way to Minecraft. Check out the latest news about the game below.
Highlight recent changesYes No
Fornite for Android available to everyone
Update by Stella Dauer [12/10 às 10h]
Anyway, the wait is over. After the presentation of the Galaxy Note 9 and the exclusivity for Samsung devices, Epic Games reported that it is now possible to download the famous game for smartphones from other brands. Now, everything just depends on your device settings.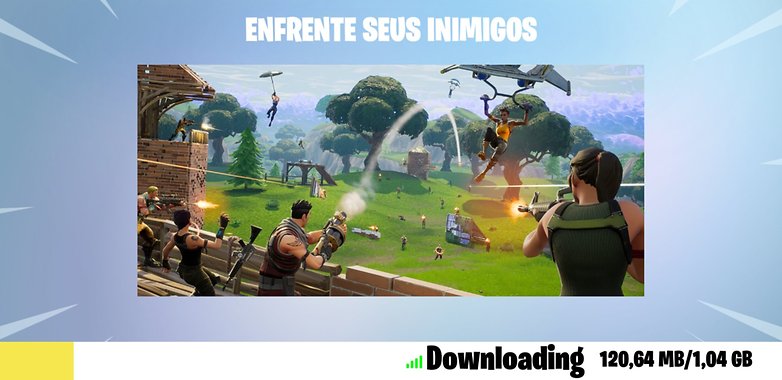 How to download Fornite for Android
Now that it's official for all brands, it's very simple to download Fortnite on your smartphone. Simply access the special Epic Games website to download from an Android smartphone, using your browser.
Download here through the official Epic Games Fortnite website
When you click download, you will download the installer. When downloading, you must grant security permissions for Chrome to install unknown apps. Open the installer and give it permission to access the smartphone files. If you can't get through the official website, you can try the options below: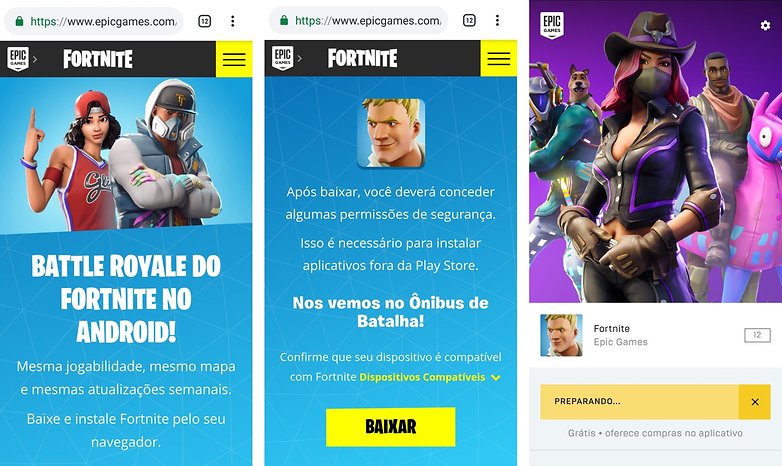 Fortnite – Why was it released outside the Play Store?
According to Tim Sweeney, founder of Epic Games, the game is not available on Google Play at its launch, and it probably shouldn't happen anytime soon. The executive confirmed to the German AndroidPIT that the developer wants to give up Google's intermediation in the sales of the game, avoiding that some fees and taxes need to be divided between both.
According to Sweeney, Google charges 30% of the revenue generated in the Play Store and ends up making the development of the same unsustainable. The remaining 70% do not guarantee server maintenance, developer payments, customer service and payment processing services, says Sweeney.
Fortnite – Compatible devices
The game is available for the following devices below. If your device is not on the list, it may be possible to install if the basic settings are available:
Android: version 8.0 or higher, 64-bitRAM: 3 GB or higher GPU: Adreno 530 or higher, Mali-G71 MP20, Mali-G72 MP12 or higher
Samsung Galaxy S7 and S7 Edge, S8 and S8 +, S9 and S9 +, Note 8, Note 9, Tab S3, Tab S4
Google Pixel and Pixel XL, Pixel 2 and Pixel 2 XL
Asus ROG Phone, Zenfone 4 Pro, 5Z, V
Essential PH-1
Huawei Honor 10, Honor Play, Mate 10 and Mate 10 Pro, Mate RS, Nova 3, P20 and P20 Pro, V10
LG G5, G6, G7 ThinQ, V20, V30 and V30 +
Nokia 8
OnePlus 5 and 5T, Oneplus 6
Razer Phone
Xiaomi Blackshark, Mi 5 and Mi 5S and 5S Plus, Mi 6 and 6 Plus, Mi 8 and Mi 8 Explorer and Mi 8SE, Mi Mix, Mi Mix 2, Mi Mix 2S, Mi Note 2
ZTE Axon 7 and 7s, Axon M, Nubia Z17 and Z17s, Nubia Z11
Sony Xperia XZ, XZ premium, XZs, XZ1, XZ1 Compact, XZ2, XZ2 Premium, XZ2 Compact, XZ3
Motorola Moto Z, Moto Z Droid, Moto Z2 Force
HTC 10, U Ultra, U11, U11 +, U12 +
Fortnite – Exclusive features for Android
The Android version is almost identical to the iOS version, but it will have some new features. Epic Games will use Android to integrate the new ability to customize its HUD (heads up display) and include a new voice chat. «We are working on integrating a mobile voice chat that allows you to communicate with your teammates, regardless of their platform.» said the company.
Fortnite – Beware of fake APKs
Many malicious people know that the demand for the game on Android is high, and that everyone is eager to download the title on their devices. This is made even more complicated by the fact that the official game is released outside of Google Play. Before downloading anything, check out official information here on AndroidPIT and EpicGames Twitter.
* Article made in partnership with the editor Cristopher Gabbert, from AndroidPIT.de
Have you tried Fortnite yet? What did you think of the game?