Optimize your time
Use the index below to navigate between the categories of your interest more quickly:
Best Running Apps
Fever in Brazil (in a good way), you can see runners spread across all cities in the country.
Soon, apps that help weekend athletes perform better are among the most popular on Google Play.
And several of them are really good, with different features, connection to GPS and running modes.
Our current favorite
Even with a good variety of running apps, Endomondo is still the favorite in our hearts.
Easy to use, has round integration with the device's GPS, training plans, challenges, stores your activity history and allows route planning.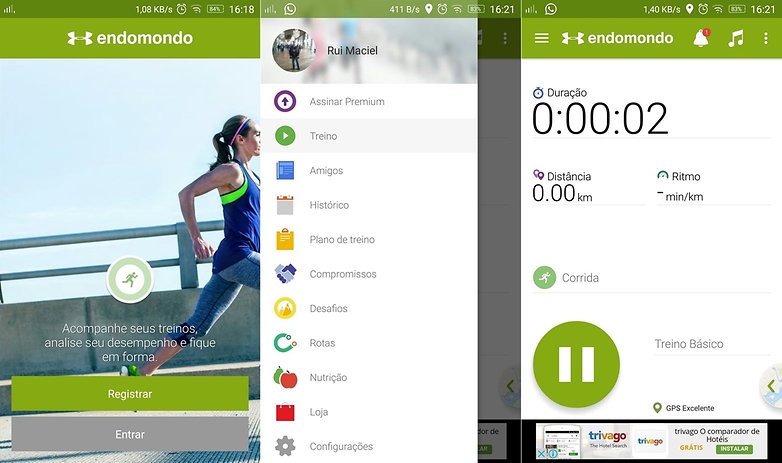 Even with a paid version, which brings more features, the app's developer was careful not to insert invasive advertisements in the free edition.
Endomondo Racing Cycling MTB
Best Cycling apps
Many of the apps developed for running also include cycling in the package.
Therefore, some of the best programs work well for both activities, with the same operating dynamics.
Our current favorite
In the same vein as Endomondo, Strava is also easy to use and has some interesting features in the free version.
One of them is the "Segment Explorer", which shows parts of the cities that represent good challenges for cyclists, with very steep and complicated hills to climb – and great to descend.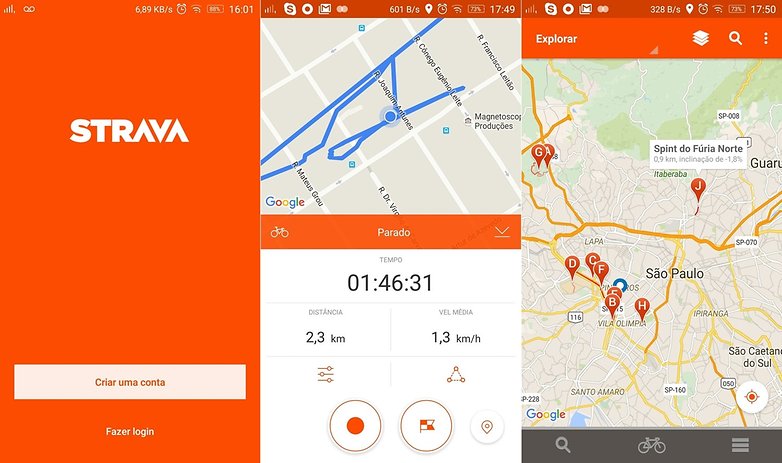 And, of course, Strava also has the basic functions of a good cycling app: it calculates your route, distance, records your activities and shares them on social networks (if you want) and brings challenges to routes for the user.
Strava GPS Running Cycling
Best apps for Personal Trainer
If the money is short to hire a real person, apps that simulate one of them can help.
The best ones bring videos and explanations of the exercises and an agenda showing the evolution of the users.
But important: always consult a professional in the field of Physical Education before going out working out without monitoring.
Our current favorite
BTFIT is an app from the Body Tech academy chain, which offers free group video lessons.
Each day, the user has four types of classes to be followed, all taught by Physical Education professionals.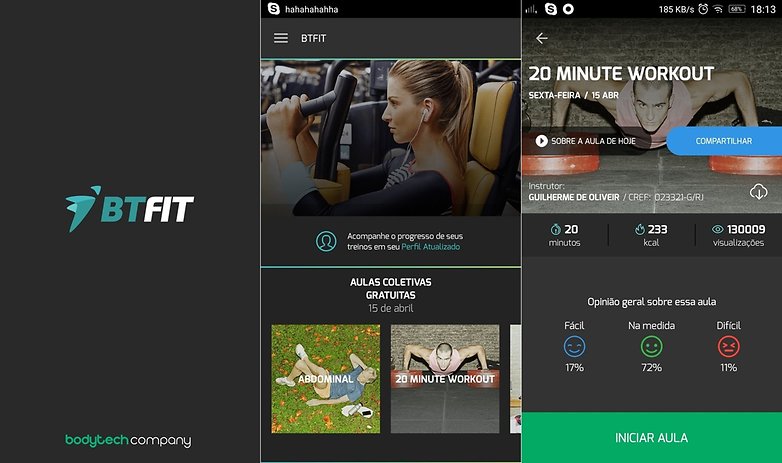 And if you have a spare amount left, you can hire a personal trainer online, with individual attention, training prescription and evolution monitoring.
BTFIT – Personal Trainer Online and Fitness Workouts
Best Yoga apps
Looking from a distance it seems easy, but the practice of Yoga is much more complicated than it seems.
And if you plan to get started, there are specialized apps on Google Play that can help you.
But it is always good to consult a specialized professional too, ok?
Our current favorite
Daily Yoga is one of the most popular apps of its kind on the Google app store.
It brings, for free, several Yoga positions for you to practice, all being shown in demonstration videos.
However, whoever wants to have access to all positions in the app needs to pay.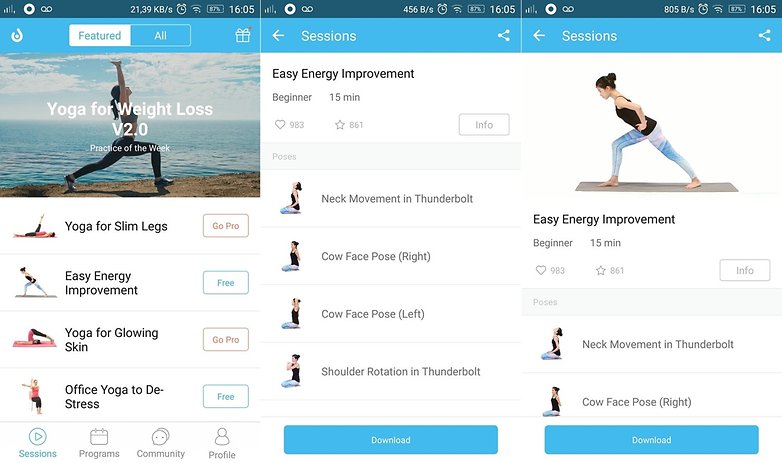 The app also has two small defects: it is all in English and, for each Yoga position you want to reproduce, it is necessary to download a plug-in to open the video.
Daily Yoga – Yoga Fitness App
Best Hiking apps
For those who are not a fan of running, walking is also a good option to lose weight, in addition to having a lesser impact on the body.
And, like running and cycling apps, there are good apps for this type of activity and with similar functioning.
Our current favorite
IMapMyHike has a dynamics of operation very similar to that of Endomondo and Strava.
It has distance indicators, calorie counter, the route traveled with a map integrated with the smartphone's GPS and also links its operation to the type of hike that the user wants to do (General hiking, Cross country, Trail running, Treadmill, stairs, walking with dog, etc.).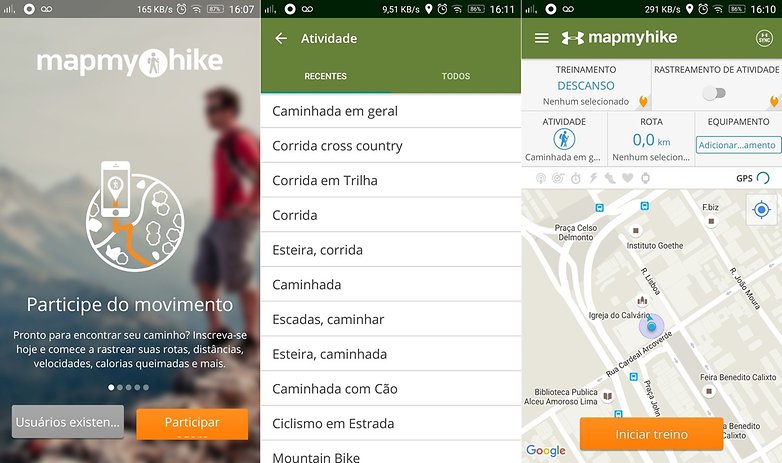 And, as always, there is also a menu where you can record your activities and evolution.
MapMyHike: GPS Trails
Best apps for Crossfit
Fashion in several cities throughout Brazil, Crossfit is a program of strength and physical conditioning, through several short exercises, but of high intensity.
The advantage of it is that the user does not need special equipment to perform it and apps that bring demonstrative videos can help to practice this activity.
But, as we said before: always consult a Physical Education professional before doing any sport
Our current favorite
The Crossfit Tabata app features several Crossfit exercises, aimed at both beginners and more veteran practitioners.
The exercises are shown in short videos with captions (in English) explaining how to practice them.
There are several categories of training (arms, legs, glutes, abdomen, etc.) and even motivational videos.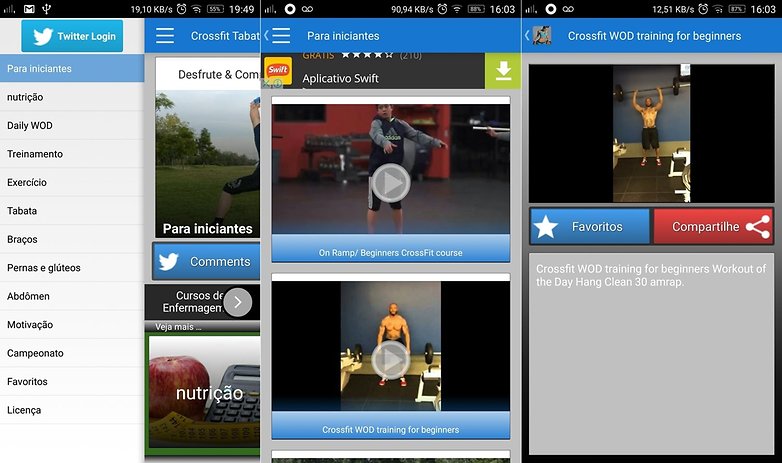 As it is a free app, there is the presence, sometimes uncomfortable, of advertising.