By paying too much attention to gigahertz, gigabytes, megapixels, and other letters related to future high-end smartphones, we forget that that intermediate model responds very well to what we need in 90% of our daily lives.
It is true! We always want to have that latest generation smartphone and, when the pocket allows, we don't mind paying a surreal amount to have the phone. The problem is that we hardly use 100% of the potential that the model offers.
The fact is that almost always a mid-range phone would respond calmly to what we need on a daily basis. It's like buying a Mercedes to ride in São Paulo, when a Hyundai HB20 was already a good size for our needs.
Tell me what casualties …
An example that proves this: at the end of January this year, we released the list of the ten most downloaded apps and games of 2015. In the case of apps, none of them were those that make the smartphone "sweat the shirt" (the first four belonged to the Facebook, inclusive).
The same goes for games, whose ranking was basically made up of casual, lightweight titles that require little hardware. Check the image below: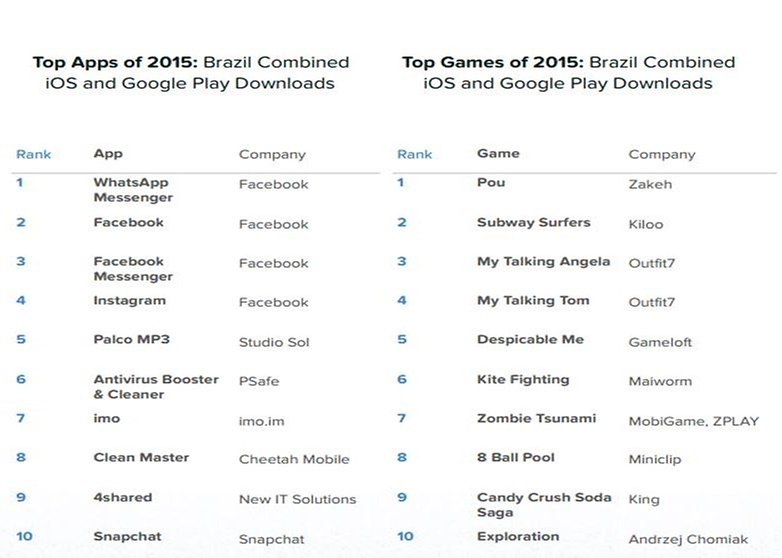 Now giving another personal example: between 2013 and 2014 I worked in the content area of ​​the largest application download site in Europe. At the agenda meetings, there was an eternal discussion with the traffic analysis staff: we journalists wanted to create guidelines that highlighted the entire collection of apps on the site. The traffic analyst wanted content creation focused only on applications that brought traffic to the site.
But they had a point as irrefutable: from the collection of tens of thousands of applications and games, just over 100 of them were responsible for 85% of all download traffic. And guess what were the champion apps in this ranking? Whatsapp, Skype, Instagram, Facebook, among other mobile software that run perfectly on any smartphone. No heavier program was even in the top 70.
Try to better understand how you use your smartphone
Of course, there is also that part of the public that is fond of photography or of well-crafted and complex mobile games. In that case, the powerful configuration of the camera, processor and GPU are really important. Then a Galaxy S7, a Moto X or an Xperia Z5 can make all the difference.
However, most people are satisfied with taking a photo with their friends or of a landscape, apply a filter and share the image on their social networks; or be happy playing your Candy Crush Saga. Things that a Zenfone 5 or Galaxy J5 do perfectly.
Understand, I am not advocating a leveling down in the launch of new smartphones. High-end models are very important to show new features and technologies and make them gain scale, in order to allow intermediate smartphones to gain these same features later on.
I just believe that, many times, we give an exaggerated value to the hardware, the processor, the new sensor of the camera, the GPU. With that, we always want a newer, more advanced top of the line and we subject ourselves to paying (expensive) for something we will not take advantage of in its entirety, not least because we don't need to.
And you, are you satisfied with your smartphone and enjoy its full potential? Or do you think that only a top of the line will solve your problems?