I have been a Motorola user for just over a year. I have a Moto X 2014. And I love to discover all the exclusive features and explore to the fullest everything that the device can offer. Only, sometimes, I forget that only a small portion of the population does this. And that was why I was impressed with the frequent doubts that were arriving here.
Here's the question: how to use Motorola's standard keyboard emojis? Apps like WhatsApp, Facebook Messenger and others have super fast and easy access to emojis, which are used on a large scale by everyone. However, how do you put emojis in Instagram captions? And on Twitter posts?
That's where the emojis that are embedded in the standard Motorola keyboard come in. Only they are half hidden, but nothing that needs a treasure map to be found. Remembering that the keyboard of the Moto line is the same as Google's, and can be downloaded through the Google Play Store.
Gboard – the Google Keyboard
It's very simple: when you're on the screen of Instagram, Twitter or any other application that doesn't have a quick shortcut for emojis, just long press the line break key or send a message (depends on the application). You will see that a new key will appear, with a face. Just select it for you to access the standard Android emojis, as shown in the screenshots below.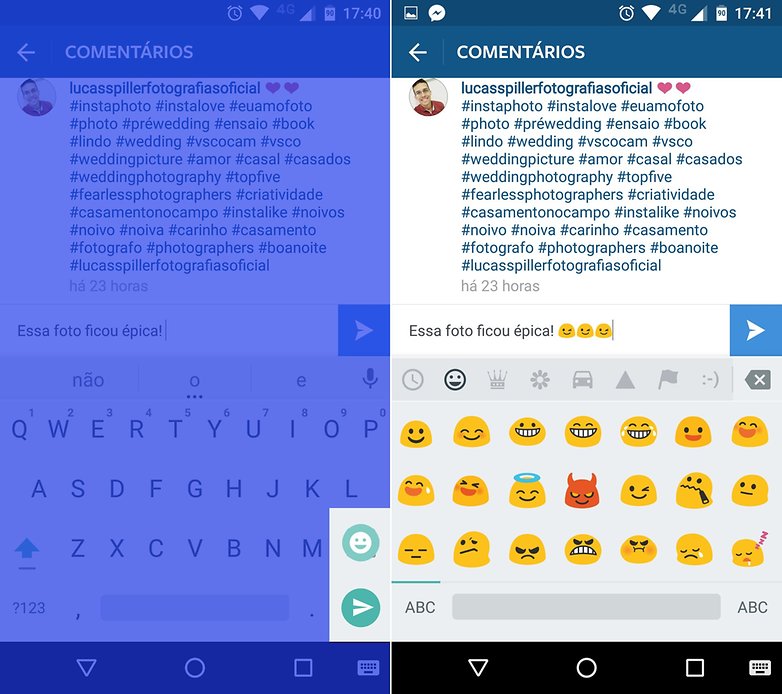 Unfortunately, emojis are the standard Android ones, which look like a mix of «ice cream» with amoeba. That is, ugly. Particularly, I don't even like to use it, but if you don't give up using emojis in your messages or comments, here's the tip for Motorola users.
So, did you know that or not?