Instagram has 500 million users, 300 million of which are active daily on the network. However, research by Quintly, a company specializing in the development of social media analysis tools, shows that people's interaction with the platform has declined in the past 12 months. What happened?
A post on the official Instagram blog announced last Tuesday (6/22) that the platform has reached 500 million users, and that 300 million of them use the app daily to post, share and comment on photos and videos of landscapes, events, selfies, food dishes and, of course, lots of cats.
This data indicates that there are a lot of people using the app frequently, but not everything is as it seems. The Quintly study indicates that, despite being installed on many smartphones and tablets, Instagram is Facebook's weakest social channel, with interaction with the platform dropping 33% in one year.
Instagram interaction dropped 33% in one year
For this research, Quintly used 13,000 accounts to analyze the engagement of companies and end users and pointed out that interaction with photos dropped 27% and with videos, 39% (even the total content posted in this format has risen by 5% to 15%). If we take the average, we arrive at the number of 33% referring to the fall.
This decline mainly affects accounts with many followers (especially those with more than 100,000); the smaller profiles (between 1 and 1,000) did not change significantly. Despite Facebook being considered a saturated platform, in the quarter under analysis, users interacted much more with «Face» than with «Insta», posting more daily content. What's wrong with the platform focused on images?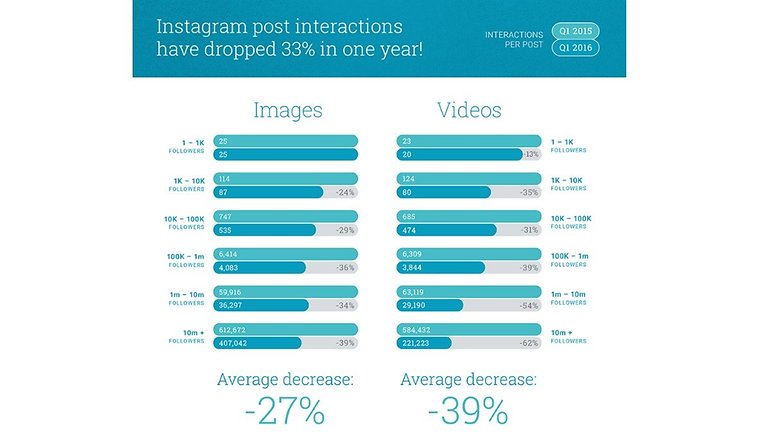 Why doesn't Instagram convince like Facebook?
A new useless update
Version 8.0 of Instagram brought a graphic revolution to the app, but it was not enough. The new update only brought a new ugly icon and a white, minimalist and boring interface.
White replaced blue to make photos and videos stand out more, in addition to allowing a more colorful icon. What about features? Virtually nothing has changed. It's not what users expect from an app that claims to be more and more popular.
The growing presence of brands
Another important point is the presence of brands and companies on Instagram. The arrival of advertising on the platform influenced users who initially had an interest in keeping in touch with the resources offered by some companies. However, most do not find interesting messages and prefer to interact on Facebook, where the content is more personal and interactive.
It cannot be forgotten that a larger number of users does not necessarily mean more interaction: more users means more published content and, consequently, less interaction in individual messages.
Tired of «addictive» and battery-intensive apps?
Another reason that users do not interact with Instagram may be the desire to get rid of the addiction. It must be admitted that, after the popularization of platforms like Facebook and Twitter, it is difficult to resist the temptation to take a look at the networks when we have free time. Staying away is, therefore, a practical solution for those who love photography, but do not want to be sucked into social media or end up with the battery of their smartphone.
Uploading photos and videos not only consumes battery power, but can also end user data deductibles. Obviously it is possible to disable notifications or activate Data Saver, but this affects the interaction with the app and the quality of images and videos. The simplest solution seems to be simply not to use the application until we arrive in an environment with Wi-Fi and an outlet.
I use Instagram. I don't usually post new photos every day, but when I'm on the platform, I like the images or videos I like the most and, very rarely, I leave a comment. However, the last update was disappointing. In short, it is not a platform on which I spend the day, or even many hours in a row, but just something to take a quick look at times of boredom.
And the drop in interaction with the social network may indicate that many have been thinking like me.
Now I want to know if you are part of the 300 million users who interact with the platform daily or if you prefer to stay away from Instagram.