Two-time Brazilian Champion, 1968 and 1995, the Botafogo Football and Regattas, Glorious, Fogo or simply Botafogo, comes to the 3rd round of the Brazilian Championship in the lead and the next team of our 2012 Brazilian Apps Series. Week, I will air articles with the best apps to accompany your team in the championship. What are you looking for? News, images, videos, expert comments, game calendar or standings can all be put together in one Android app, check out the best apps to cheer for Botafogo:
Botafogo SporTV
This app brings all the specialized content of one of the most respected sports communication vehicles in the country. All of SporTV's coverage of Botafogo through news, goals, best moments, interviews, player statistics, standings, real-time live match tracking and much more. This is the kind of app that is always worth it, and best of all it's free.
Click on the image below to download Botafogo SporTV:
Botafogo Anthem Widget
There is nothing worse than arriving at the stadium and not being able to follow the scream of the other fans, the songs or even the team anthem. With the Botafogo Anthem Widget you have at your fingertips all the screams and hymns of the Lone Star Club! The widget also makes it possible to customize your smartphone and use the anthem as a ringtone.
Click on the image below to download the Botafogo Anthem Widget:
Botafogo Total
If what you're looking for is information about your team, Botafogo Total is the app that sends real-time news, photos, and videos from portals such as ESPN Brazil, Globo Esporte, Terceiro Tempo, Terra, UOL and others. The app also brings leaderboards, list of upcoming games and recent results.
Click on the image below to download Botafogo Total:
Botafogo Live Wallpaper Free
This is a free app where you find Botafogo 3D Live Wallpaper and the best one is free.
Click on the image below to download Botafogo Live Wallpaper Free:
Botafogo Live Wallpaper
The Botafogo Live Wallpaper app brings different images in for you to use as live wallpapers so you can customize your smartphone for the cost of 0.81, about $ 2.00. Check out: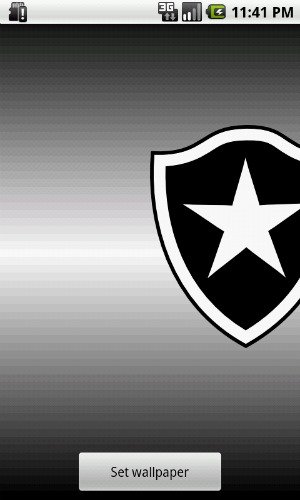 Click on the image below to download Botafogo Live Wallpaper:
Each of the 20 teams participating in the Brazilian Championship Series A will be awarded at least one Android application in a sequence of articles that runs until the end of this week. Also access:
Atltico-GO
Atltico-MG
Bahia
. (tagsToTranslate) Android Apps (t) Brasileirão 2012 (t) Apps Botafogo