THE iPhone keyboard it is used more than 50% of the time we have it in our hands. Emails, notes, messages, internet searches and other things use the iPhone keyboard in its essence. So we decided to give 5 tips for you to use your iPhone's keyboard more quickly.
These tips will help you to type things faster and with fewer errors. These are some important agilities for those who use Apple's smartphone a lot. I recommend you also read this our article, where we teach many things about using the iPhone keyboard.
1 – Create shortcuts to type
This tip is worth a separate article, as it is of great value, but I will talk briefly about it. Did you know that you can type a entire sentence with 3 letters on the iPhone keyboard? It's simple, just create a shortcut to it. Let's take the example, imagine that you want to write quickly to your friend – I'll call you, I'm driving! – Until you finish that sentence, you already crashed the car :-p! But if you send it, you type – jtd – I think you can do this waiting for a signal to open, no?
The shortcut does just that, you configure the iPhone to recognize that when you type this, you mean that, simple as that. To do this go to Settings> General> Keyboard> Add new shortcut. 2 fields, Phrase and Shortcut will appear. Where is the phrase you type the phrase you want to appear, and in Shortcut you write what you are going to type so that it appears.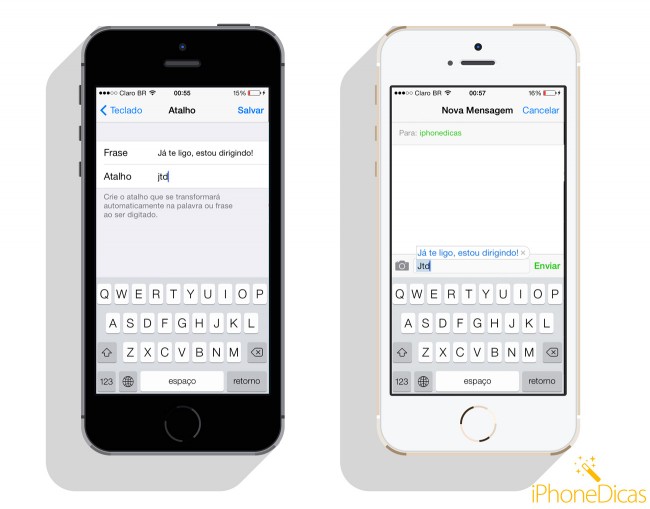 See in the image what happens when you type the shortcut in a message. Whenever you type this it will suggest what you have configured. There are no shortcut limits, so you can create as many as you like and type huge texts in a few words. For example, I typed all this with just 26 letters :-p (got the joke?).
It's nice that you can also use emoticons (emoji) and make shortcuts for them too, like :), :(,: p, and more. Test and use and abuse this tip, it's really good.
2 – Add emoticons (emoji) or other languages ​​and use them very easily
This tip also has in our other article, but I found it important to stress again. Originally on the iPhone, only the keyboard of the language used, ie Portuguese, is activated. But you can add other keyboards (English, Spanish) and even a keyboard with several emoticons (emoji). And switching between them is also super easy.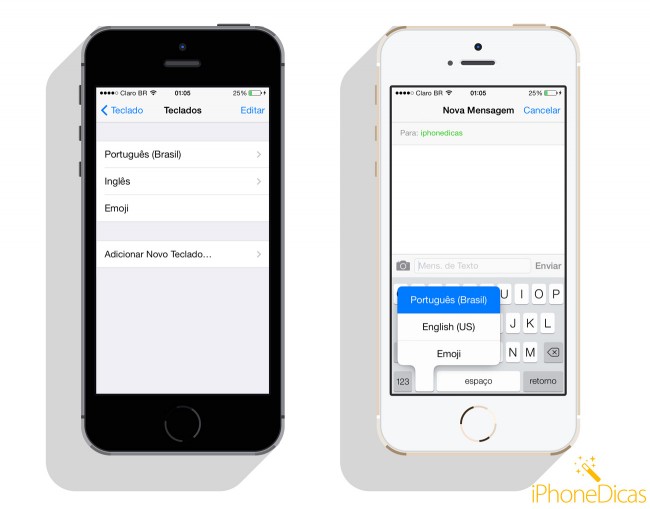 To add more keyboards go to Settings> General> Keyboard> Keyboards> Add new Keyboard and choose which keyboards you want to add. The cool thing is that when you add a keyboard, the entire dictionary of the language comes together, so the automatic corrector corrects errors in the language used. I use this a lot in English, because the keyboard corrects if I type something wrong.
3 – Put bold / italic / underline in the text of your emails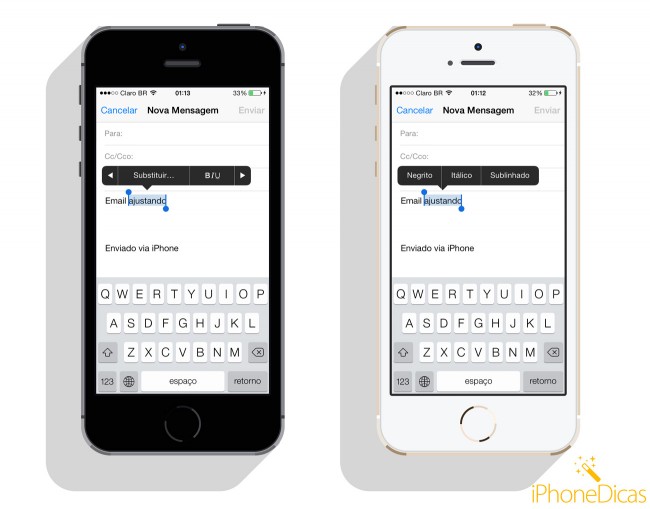 You can give a light formatted in the text of your emails, being able to put words in bold, italic or underline. That's enough for you select the word and tap on it once, and when the options appear, just tap the arrow to the side until the option appears BIU, touch it and choose.
4 – Enter the .com and / or .br quickly on safari (iOS 7)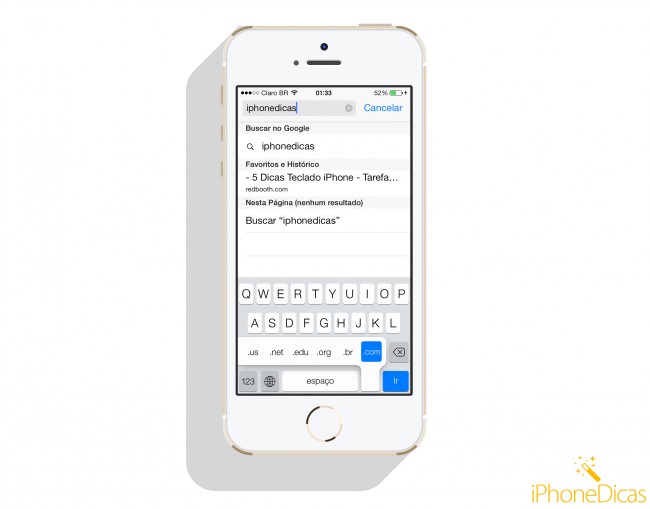 At the iOS 7, Apple joined the space where we type search and type the page url, so the .com button on iOS 6 is now hidden. To make it appear, just press the "." and the options will appear.
5 – Type a number in the middle of the sentence quickly
There is a way for you to type this phrase – I ate 2 loaves – in a very practical way on the keyboard of your iPhone. Instead of typing «I ate» then touch «123» in 2 and «123» again to write «breads», try holding «123» and sliding your finger to the desired number and then release. See that you will return to the letter keyboard automatically!
Final considerations
The iPhone keyboard is very good, considered by many, the best among competitors. It is certain that it still has flaws or interesting options not implemented (such as suggestions for complementing words with exists on Android). What remains for us to study it and find ways to speed up typing.
More Tips?
Do you have any tips that only you know? Speak in the comments and enrich this article. We also count on your collaboration for the growth of iPhoneDicas.