The Battle Cats
A great strategy game in which cats are the main weapons.
In the game it is necessary to conquer several countries in the world using different types of cats to defeat the enemy tower.
Battle Cats is quite complex: there are several different types of cats, each with their own abilities; with each victory the player gains points that can be used to increase the cat's level.
The player has a wallet, which keeps collecting money, when he reaches enough, just select one of the cat types for the tower to produce.
At each stage / country the difficulty increases, keeping the game interesting.
In addition to the main battle, there are also Events, which happen sporadically.
With each victory, it is possible to collect treasures and cards, which can be exchanged for exotic or rare cats.
In addition, you can also invite friends or exchange codes with other users, which can be worth experience points, cans of food or even rare cats.
Anyway, it's a great strategy game for Android, complex enough to be interesting for a long time, but simple enough that anyone can play.
Battle Cats is free, with ads and in-app purchases, is all in English, occupies about 50MB, apart from data, and requires Android 4.0 or higher.
The Battle Cats
Mitchiri Neko Dash み っ ち り ね こ だ っ し ゅ!
The title means something like The Difficult Cat Race (according to Google Translate).
That is one endless runner Japanese where you control a cat that walks along a Japanese shopping street collecting coins and what appear to be puppies of cats that are in boxes along the way.
From time to time, the player must deliver the puppies to a store.
To run just keep your finger on the screen and slide it sideways, to jump, just release your finger.
The speed increases with time, and the game starts to get quite difficult.
There are some objects that give powers and some obstacles that are fatal: the lion and the ball of cats end the game.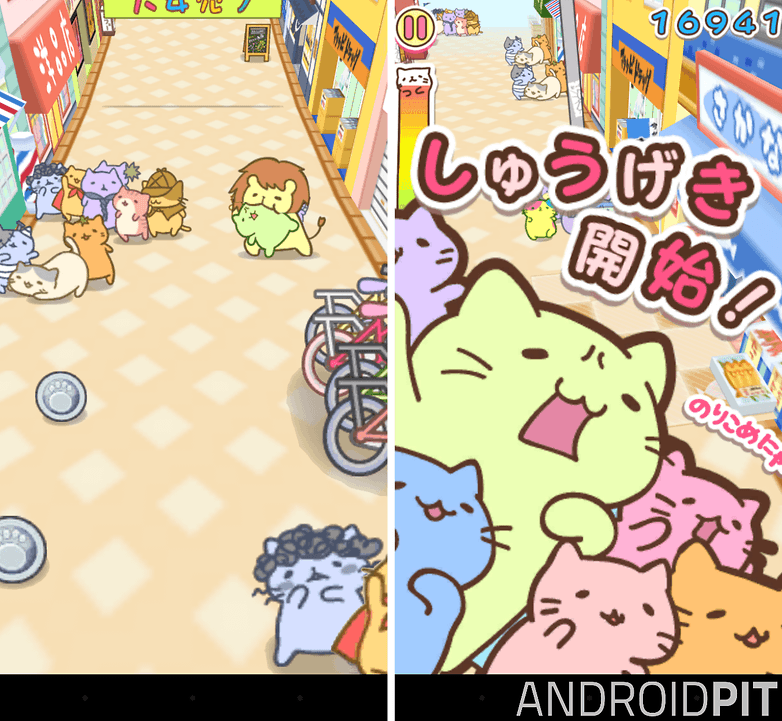 This is a very fun game, good to pass the time, with simple graphics but very well made and slightly schizophrenic after a while.
There are cards and other objects that can be collected during the race that give special powers or gather all the cats in one giant ball, for example.
The game is all in Japanese, so it takes a bit of guesswork to find out what's going on outside the race screen.
In addition, the game offers in-app purchases, so be careful not to buy items without realizing.
Free with in-app purchases, takes up about 25MB of space and requires Android 2.3 or higher.
Available on the Play Store.
Pop Cat
Pop Cat is an elimination puzzle with cat faces instead of pieces.
The operation is simple, tap to select blocks with faces of the same color, tap again to make them explode.
The more guys explode each time, the more points.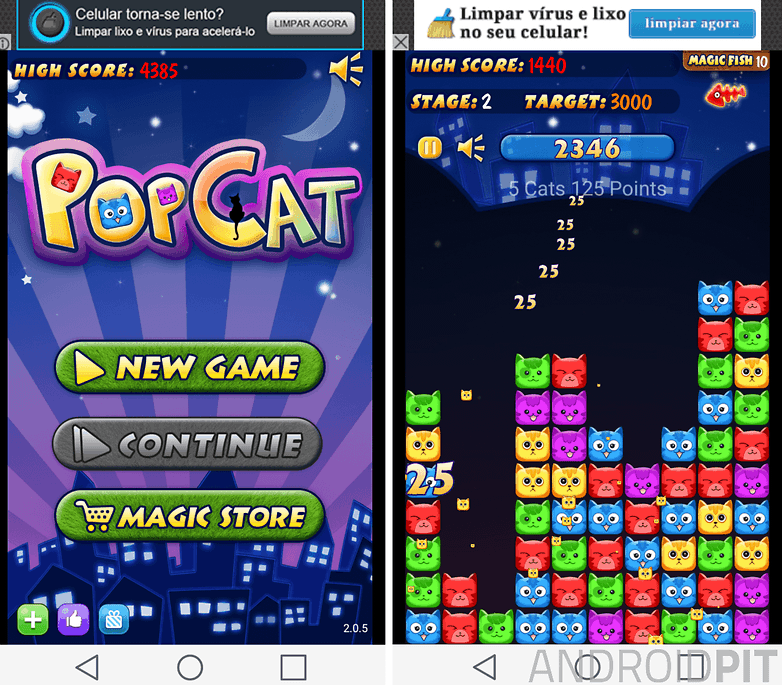 The game has several levels, but you must always start from the first and reach the minimum points to move on to the next.
It is a great alternative to pass the time.
The game is free, with ads, in-app purchases and credits if you install other apps; takes up 27MB of space and requires Android 2.3 or higher.
Pop Cat
Fly Cat
A cat with a kind of jetpack need to dodge furniture in a room.
The idea of ​​the game is very similar to that of the Jetpack Joyride, but here the challenge is much greater: controlling the cat's flight requires refined manual skill.
Comes with three levels of difficulty: Normal, Hard and Insane.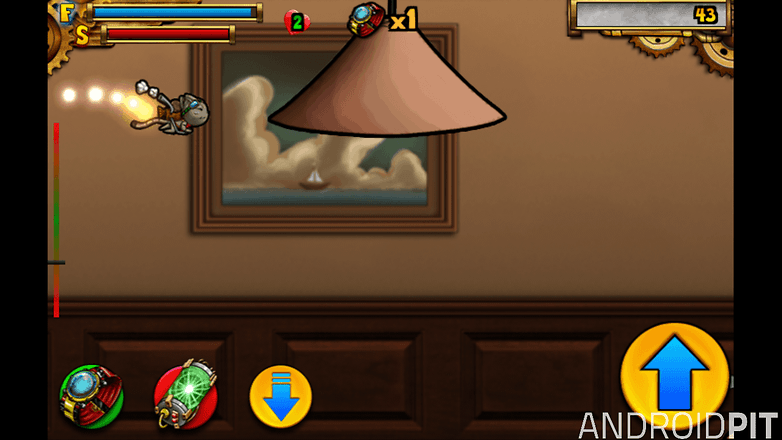 Free, I didn't find ads or in-app purchases, but I didn't get very far (maximum score: 202); takes up 62MB of space and requires Android 2.3 or higher.
Fly Cat
Cats Revenge
A game à la Angry Birds, where you must use cats with different powers to take down birds from trees.
Basically the same operation as the version with birds and pigs, but unfortunately the gameplay, graphics and diversity of challenges cannot be compared.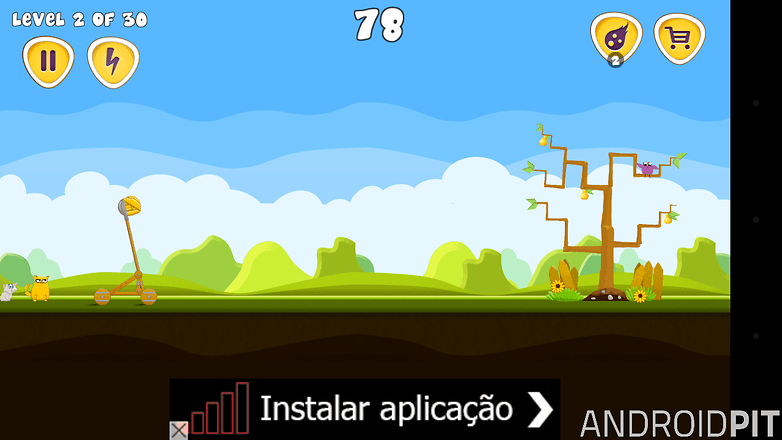 Despite this, the game is quite interesting to pass the time, despite all the defects.
Free with ads, takes up a whopping 67MB of space and requires Android 2.3 or higher.
Cats Revenge
BONUS
Crazy Cat
Crazy Cat is a game for your cat, as you would expect for a game for pets, it is quite simple: on a cheese background, a little mouse runs, and the cat must try to capture it with the paw; every time the pussy succeeds, it gets points.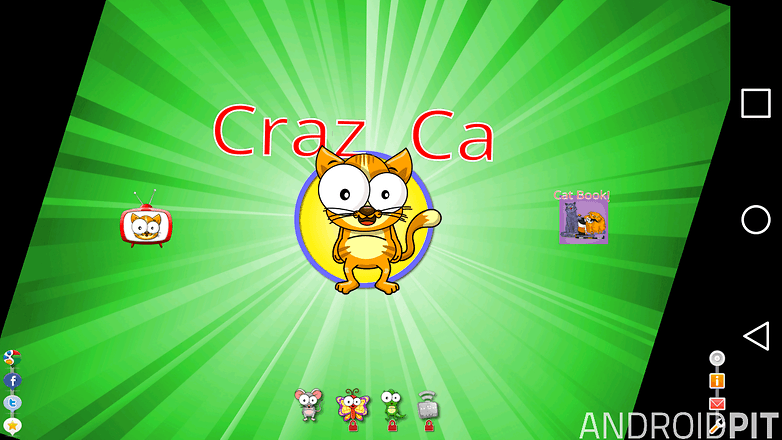 My cat hated the game, but she doesn't usually play with anything, so she doesn't have an opinion that should be taken into account.
The game is free, with in-app purchases: you can buy other animals for your cat to chase, occupies about 12MB of space and requires Android 2.2 or higher.
Crazy Cat – The Game for Cats!
What other cat games do you know? And with other animals?