Android has become so strong that major game makers are increasingly releasing their acclaimed games to the Google platform. It was imaginable some time ago the idea of ​​seeing a Mario game coming out for Android. The business has become so profitable for developers that the trend is to further increase the amount of games for Android.
There are already numerous famous titles from reputable companies such as Nintendo, Sega, Capcom, Square Enix and ELECTRONIC ARTS, which we decided to bring a complete list of games from each of these cited producers, and which has frequently been launching their titles for Google platform. Without further delay, check out the games from these five producers that are available on the Play Store:
Nintendo
One of the most reputable companies when it comes to own games and consoles, Nintendo doesn't even need to comment. The Japanese giant has been in the business since 1977 when it launched its first game that was Donkey Kong, which soon became a huge success. So far the games released by Nintendo for Android are:
Fire Emblem Heroes
Super Mario Run
Animal Crossing: Pocket Camp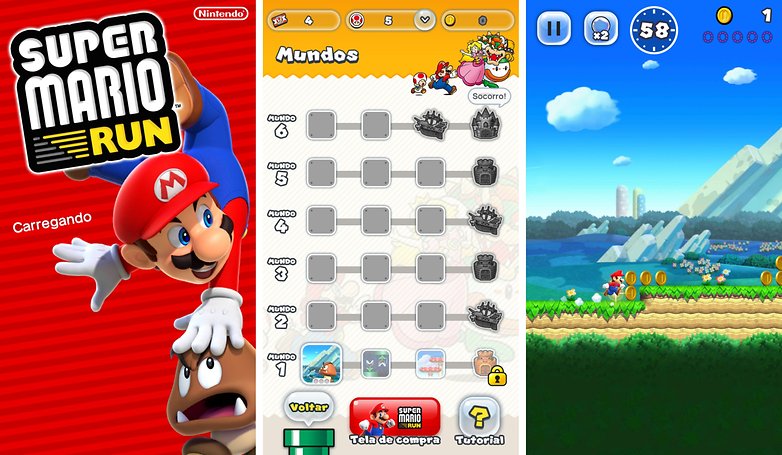 Download all Nintendo games for Android here directly from the Play Store
Sega
Sega fought big disputes against Nintendo when it was still making video games, especially in the 16-bit era, when Super Nintendo and Mega Drive fought to win over the public. Like Nintendo, Sega has many great games of its own, and to the great happiness of users, more and more we have seen the Japanese company bring its titles to Android. Check out the ones released so far:
Sonic Dash
Sonic Dash 2: Sonic Boom
Sonic The Hedgehog 2 Classic
Sonic Forces
Sega Heroes
Sonic CD Classic
Sonic The Hedgehog 4 Episode II
Streets of Rage 2 Classic
Streets of Rage Classic
Golden Ax Classic
Crazy Taxi City Rush
Crazy Taxi Classic
Ristar Classic
The Revenge of Shinobi Classic
Kid Chameleon Classic
Altered Beast Classic
Shining Force Classics
VectorMan Classic
Comix Zone Classic
Virtua Tennis Challenge
Dynamite Headdy
Decap Attack Classic
SEGA Slots: Vegas Casino 777
Beyond Oasis Classic
Gunstar Heroes Classic
Crazy Taxi Idle Tycoon
ESWAT: City Under Siege Classic
Super Monkey Ball: Sakura Edition
Total War Battles: KINGDOM
Phantasy Star II Classic
Space Harrier II Classic
Sonic 4 Episode I
Sonic Jump Pro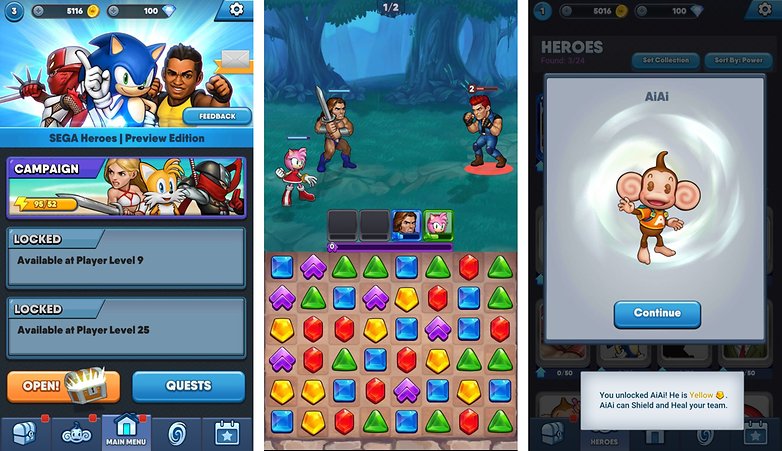 Download all Sega Android games directly from the Play Store
Square Enix
When it comes to turn-based RPG, it is impossible not to remember the acclaimed Final Fantasy series, for me the most important role-playing game in the history of the gaming world. And for the happiness of turn-based RPG lovers, the Final Fantasy series is present with several Android games. Thanks to Square Enix, which has been gradually increasing its repertoire of games in the Google store. These are Square Enix games released for Android:
Lara Croft: Relic Run
Life is Strange: Before the Storm
Life is Strange
Lara Croft GO
Hitman GO
Deus Ex GO
Arkanoid vs Space Invaders
FINAL FANTASY BRAVE EXVIUS
FINAL FANTASY TACTICS: WotL
STAR OCEAN: ANAMNESIS
FINAL FANTASY XV POCKET EDITION
MOBIUS FINAL FANTASY
DISSIDIA FINAL FANTASY OPERA OMNIA
FINAL FANTASY ALL THE BRAVEST
KING'S KNIGHT
CRYSTAL DEFENDERS Lite
The World Ends With You
DRAGON QUEST
Crystal Defenders
VALKYRIE PROFILE: LENNETH
FINAL FANTASY V
FINAL FANTASY VII
CHRONO TRIGGER
FINAL FANTASY IX
DRAGON QUEST VIII
FINAL FANTASY IV
FINAL FANTASY III
DRAGON QUEST III
DRAGON QUEST II
FINAL FANTASY DIMENSIONS II
Romancing SaGa 2
Dragon Quest VI
DRAGON QUEST V
Secret of Mana
CHAOS RINGS III
DRAGON QUEST IV
FINAL FANTASY VI
FINAL FANTASY IV: AFTER YEARS
FINAL FANTASY DIMENSIONS
FINAL FANTASY II
FINAL FANTASY
Download all Square Enix games for Android directly from the Play Store
Capcom
Particularly, I find it impossible for anyone who has never played a Street Fighter match against that friend of yours, or even against the CPU. Street Fighter is the soul of Capcom, as it is undoubtedly the company's most famous game. However, several other great titles from the company make the joy of gamers on duty a lot and now it is also being released for those who enjoy playing on the smartphone. See what we have from Capcom on the Play Store to date:
Street Fighter IV Champion Edition
Monster Hunter Stories: The Adventure Begins
BLACK COMMAND
Monster Hunter Stories
Ghouls'n Ghosts MOBILE
MEGA MAN MOBILE
MEGA MAN 2 MOBILE
MEGA MAN 3 MOBILE
MEGA MAN 4 MOBILE
MEGA MAN 5 MOBILE
MEGA MAN 6 MOBILE
Spirit of Justice
Dragon's Dogma Wisdom
1942 MOBILE
Ghosts'n Goblins MOBILE
Ace Attorney Investigations – Miles Edgeworth
Ace Attorney: Dual Destinies
Wolf of the BF: Commando MOBILE
Apollo Justice Ace Attorney
Download all Capcom Android games directly from the Play Store
ELECTRONIC ARTS
ELECTRONIC ARTS is a large producer that has strong franchises and that generate a lot of profit for the company. Titles like FIFA Soccer and The Sims fill EA's pocket, making the producer happy, which fortunately also already offers a large catalog of games for Android platform. See which titles are available.
FIFA Football
Real Racing 3
Plants vs. Zombies
Plants vs. Zombies 2
The Sims FreePlay
NBA LIVE Mobile Basketball
Need for Speed: NL Racing
The Sims Mobile
EA SPORTS UFC
SimCity BuildIt
The Simpsons: Tapped Out
Plants vs. Zombies Heroes
Madden NFL Overdrive Football
Need for Speed ​​Most Wanted
TETRIS
Command & Conquer: Rivals
Peggle Blast
TETRIS Blitz
Bejeweled Stars: Free Match 3
Bejeweled Classic
Heroes of Dragon Age
SCRABBLE
Bejeweled Blitz!
Dungeon Keeper
FIFA 16
Need for Speed ​​Hot Pursuit
POGO Games
NBA JAM
Need for Speed ​​No Limits
Download all ELECTRONIC ARTS games for Android directly from the Play Store
This was our list of games from five major producers that are increasingly betting on the mobile platform. Recalling that the aforementioned games are those that are currently available on the Play Store, as there are games from these companies that were launched for Android and that for some reason are no longer in the Google store.
And you, which of these companies mentioned do you think has the most prominent games on Android?