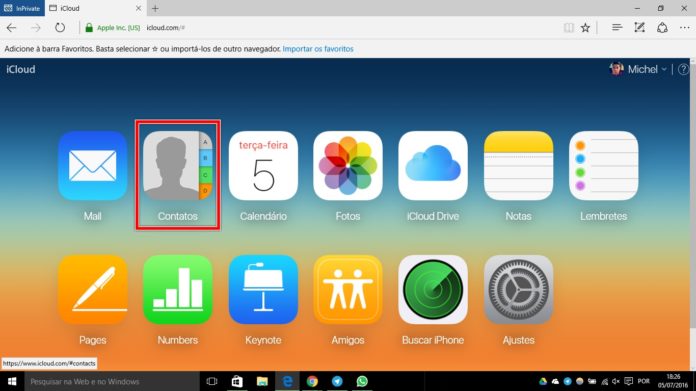 A CSV file, small as a value file,allows to you store big amount in information in onefilewhat can to be Open with apps in spreadsheet,like for example theMicrosoft ExcelorONumbersfrom Apple.
This is a great and safe way to keep a backup of your contact information, in case there is a problem on your computer or iOS device that causes the loss of that data. This tutorial will show you how to export your contacts to an Excel or CSV file.
Exporting your contacts
You can do this using a Mac / PC or an iOS device. Learn both methods throughout this article.
Creating a CSV file from the contacts in your iCloud account
The most practical way to do this is through a Mac or PC through iCloud, which can be accessed on any device you want. Follow the steps:
1 – Go to iCloud.com in your browser and login with your data.
2 – ClickContacts in the application list.
3 – Then wait for loading and click Settings in the bottom left corner of the page. Click Select all so that all your contacts are selected for the next step.
4 – With all your contacts selected, click againSettings, and then select the optionExport vCard?
5 – A vCard file will be transferred to your computer's download folder.
6 – In your browser, open the following URL:
7 ?Click the button Search forand select the vCard file you downloaded earlier. Then, configure the following options as in the image:
Format: select CSV, select CommacheckAdd header line
Encoding: selectUnicode (UTF-8)
Filter: not check anything
Modifications: not modified
With everything set up, click the buttonconvert.
8 – A CSV file to be transferred to your computer's download folder.
9 – Test the file by opening it in Microsoft Excel or Apple's Numbers. Everything should be organized in a spreadsheet like this:
Making an XLS Excel file of contacts on your iOS device
For those who wish to do the process through their mobile devices, whether it is iPhone, iPad or iPod Touch, just use the applicationSA Contacts Lite to create an XLS file for Microsoft Excel or Apple Numbers. Follow the steps below:
1 – Download the app.
2 – Open the app and allow access to your contacts. On the flapExport, touchStart and then onMore. Select where you want to save.
3 – The file will be saved in the chosen location, login if necessary.
4 – Now on your computer, open the location where the file was saved. Here we use Dropbox and move to the desktop.
5 – It's over, just open the file in Excel or Numbers.
Keep the file in a safe place. If you lose access to your device, lose your contacts or iCloud is unavailable, a backup of your contacts will be saved as a spreadsheet on your computer after this process.
Liked? Share this experience with your friends and stay tuned here on iPhoneTips !!