Downloading music on the iPhone is certainly one of the biggest searches among users of iPhones, iPads and other smarts across Google. What everyone wants is a simple and efficient method of downloading music directly to their devices, free of charge, which is available without an internet connection and takes up little space in storage.
That's exactly what I'm going to teach you here in this article: a simple, easy and efficient way that will work on virtually all iPhones (and iPads, and even Android). But for that you need to carefully read the text and the captions of the images until the end, especially in the part that says – share!
See also: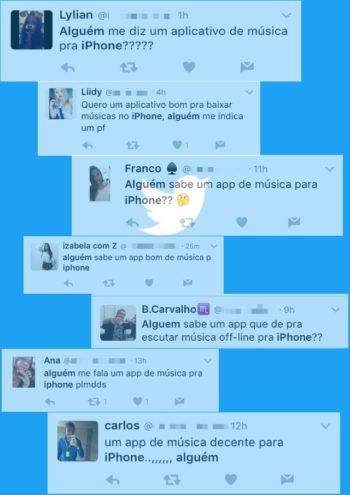 (This article constantly updated Michel Buschmann)
A lot of people search for solutions to download music for free on the iPhone (see the image above), and end up using apps that are not very good, since they have a lot of advertising, don't have constant updates, crash, go out of the air, take up a lot of space and use methods that have bad audio quality. So, in this article you will learn a great way to solve this ?problem? of music in your iDevice using only the Telegram, have you heard of it?
Knowing a little …
What Telegram? What are Bots?
For those who still do not know, briefly, the Telegram Messenger an instant messaging service of Russian origin created and developed by the brothers Pavel and Nikolai Durov (learn more about their history here).
Being the main rival of the popular Whatsapp, O Telegram stands out for its efficiency, security, advanced resources in relation to the competitor, fluidity, and mainlybots (robots), which allow the application to offer a huge diversity of functions beyond the simple exchange of messages.
O Telegram it also offers a beautiful audio player, easy to move and working in the background, which allows you to exit the app, lock the iPhone screen and continue enjoying your music.
What are we going to use here Telegram it's two bots (@vkm_bot and @YTAudio_Bot). But don't be nervous! easy to do, and if you have any questions, we will respond quickly.
How to download free music on iPhone
First, of course, I need to install the Telegram on your device (check out this tutorial for beginners).
Download through the banner below:
Using Telegram bots …
Thebotsthey are similar to ordinary conversations. Throughout this tutorial you will understand the entire procedure. Although apparently laborious, this is a very simple and easy way to dodownloadof music on your iOS device.
@YTAudio_Bot
If you find the song you want on YouTube, just use this other bot: @YTAudio_Bot. It downloads the audio from a link YouTube. Follow:
1 Start a ?conversation? with @YTAudio_Bot: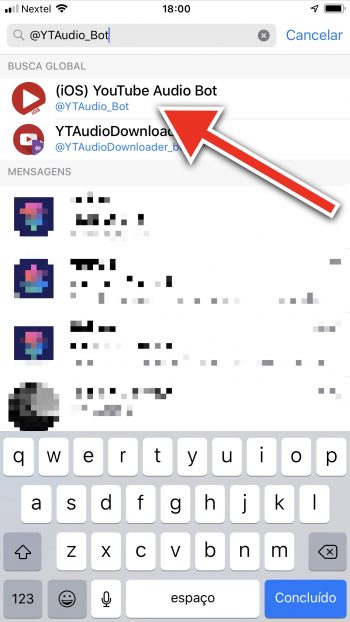 2 Now, send the link of the video containing the music you want for the bot: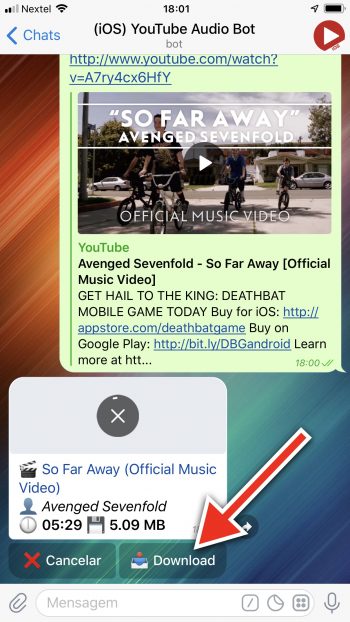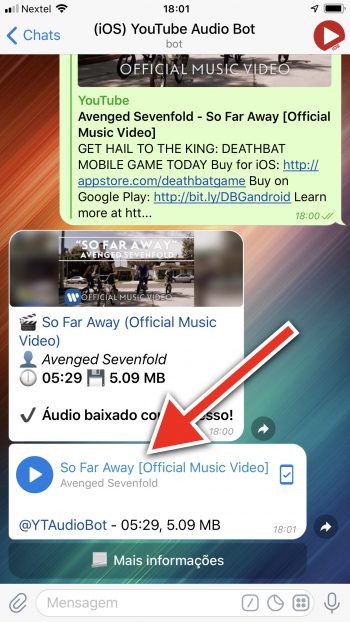 To download more music, just send other links after each download.
Extra
How to create playlists for music?
And if you have any problems or questions, feel free to contact us in our group Telegram. Also be sure to join our channel, where you will receive our posts directly on the messenger!
Final notes:
There is no how to create playlists of music, but to get around this, you can create different channels with the desired division. For example: one for Rock, another for MPB?
To download new songs, just repeat the process: send a name of the song or artist after each download.
You can download the songs and then forward them to the channel several times at the same time, just select one by one. It is not necessary to send one at a time.
The bots created by third parties, therefore, its operation is not the responsibility of the Telegram Messenger or iPhoneTips.
The app Telegram relatively small, taking up little storage.
When clearing the application's cache in its settings, no data is lost, just removed from the device, with the possibility of downloading again, since all your conversations, files, etc. are in the cloud.
Author's considerations:
This is just another method I use to have music on the iPhone. I decided to share with you here on the site because it is very efficient and easy to understand, since many users are looking for non-laborious ways to download music, as you can see in the example at the beginning of this article. Even in Telegram, there are other bots that perform these functions, but in a not very objective way.

Anyway, I hope you like it, depending on I can bring other ways to explore the Telegram universe. That is why feedback from you readers is very important. Leave your opinions, clarify your doubts, feel free to talk to us, our social networks are here! A big hug to all of you. =)
See more Tips and Tutorials here.
Liked? Share with your friends and stay tuned here on iPhoneTips! Follow us onTwitter,Telegram, InstagrameFacebook; and support our project!