01. Minimalism due to lack of knowledge – Do you admire the clean and simple Google page? Do you think it is purposeful to maintain a good reading, a good use? Well, that may be the reason today, but at the beginning Larry Page and Sergey Brin, the founders of Google, simply knew little about HTML and chose not to take too much risk.
02. Google started in a garage – Like many other companies and startups in the Silicon Valley region, Google started the company in a garage, with computers, cables and other junk around (even a keyboard to relax). You can see the house today, through Google Street View, a celebration for this anniversary. Look here.
03. The first Google server had a Lego case – Starting in a garage, you can say that there was no budget for many things on Google. For this reason, the service's first storage hard drives were housed in a tower made with Lego.
04. Google has already been a nerd – Today, when doing a search, Google's engines and servers, the search goes through millions of sites in a single second. In the first versions of the service, I could only read between 30 to 50 pages at the same time.
05. Google's name would be Backrub – Founders Sergey Brin and Larry Page, while thinking of a name for their tool, came to think of Backrub, a reference to backlinks, links that lead from one page to another on the Internet, the target of the search engine.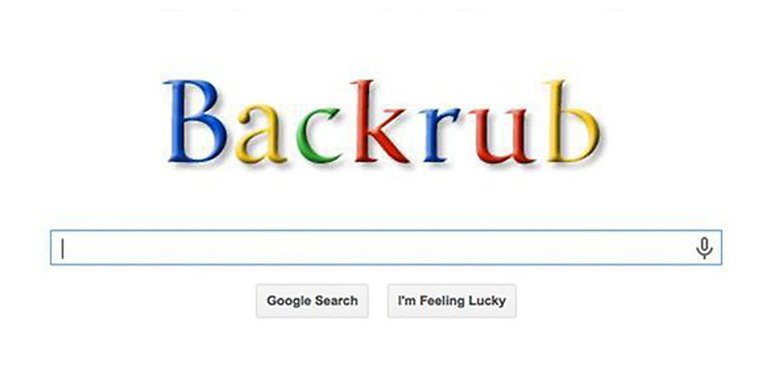 06. The word Google has an explanation – As Backrub was not legal, the creators thought of "googol", a word given to a huge number composed of a number 1 followed by a hundred zeros. However, when registering the name, an intern would have misspelled the word and written "Google". Brin and Page liked it, and the name stayed.
07. But it's okay to miss the name – At first, it can be difficult to remember how many letters O has the name, or when typing it can be easy to miss. Thinking about it, Google bought hundreds of misspelled addresses. You can type gooogle.com and gogle.com without fear.
08. Don't be evil is the unofficial slogan – Many people may not believe these days, but on a date between 1999 and 2001, a Google employee instituted an unofficial slogan that everyone followed. Don't be evil was even in a letter from the founders to investors in 2004.
09. Commemorative Doodles – Doodles are one of Google's brands. On commemorative dates all over the world, they exchange the company logo for an animation, illustration or other cute. The first came when the founders went on vacation to the Burning Man festival, and in August 1998, they left the search engine home to let users know that there would be no support on those days.
10. YouTube is not Google's creation – YouTube is so related to Google today that it's hard to imagine that it didn't start within the Mountain View company. At a lunch at a famous and popular restaurant, the founders closed the purchase of the video service for $ 1.65 billion in 2005.
11. Street View takes work – As if it were no longer complicated to send cars with a camera and sensors to most of the world (and redo this frequently), Google has already used bicycles and small carts to enter stadiums and museums, and even a camel to record deserts.
12. Well made April Fool's Day jokes – If you still don't know Google's mood with April Fools's Day, you'll need to spend some time on it. Annually, the company publishes fake and strange services, among others, just to amuse its users.
13. Google rents goats – One of the company's strangest oddities has a very logical meaning. Committed to the environment, Big G usually rent goats so they can eat the lawn at the company's California headquarters, so they can prune everything without using machines.
14. Google is a verb – Google doesn't like it and has already asked for it not to be used that way, but in 2006 the Merriam-Webster and Oxford English dictionaries included the word Google among their terms, even classifying it as a verb. Here, we still don't have an official "googling".
15. Giant numbers – All figures in relation to Google are superlative. Among them, know that 2 million searches are made on the platform every minute, I feel 7 trillion per year, generating an average of 270 searches per person.
16. Klingon is official – Are you a Star Trek fan? Well know that Google officially included the language as an interface option in 2002.
17. Hidden games – Is bored? Chrome and Google offer some simple games to pass the time. In Google Images, type «atari breakout», without quotes. In Chrome, a friendly Tyrannosaurus appears when you have no connection. Press the space bar and the game starts.
18. Google's first purchase – since 2010, Google has kept pace with at least one company purchase per week. But in the beginning, when the budget was low, it was not so. Google's first purchase was a company called Deja News, a forum search engine that eventually became Google Groups.
19. There is firepower – Today, a Google search needs more computational power than it took to send Apollo 11 to the Moon. Google's supercomputers and data centers need water pipes running between machines to cool them. There are a total of 12 such centers around the world.
April fools day 2018: the best April Fools' jokes
20. Even Amazon knows the importance of Google – Jeff Bezos, founder of the giant Amazon and the richest man in the world, invested $ 250,000 in Google in 1998. Obviously, that money earned, and today it is worth approximately $ 2.2 billion. That is, in a way Google also helps Amazon.
And there's a lot more to Google, after all, it's a 20-year-old company! After all, it is the company responsible for the most used operating system worldwide!
What is your favorite Google service?