1. Twelve mode (snooze)
In particular, this is one of the best features of Android 6.0 Marshmallow. With Twelve mode, your device's battery, even though it's an older model, will have chances to survive for a whole day without much sacrifice. In addition, you will no longer experience the problem of having the alarm turned off during the night due to lack of battery, when we normally leave the device charging.
Twelve mode is available by default on all devices that run with Marshmallow, so you won't just depend on the energy saving mode of some manufacturers, like Sony's STAMINA, which is restricted to Xperia models. Another benefit of Doze is its auto-configuration, as this mode automatically runs in the background and manages system services and applications, eliminating the need for manual adjustments.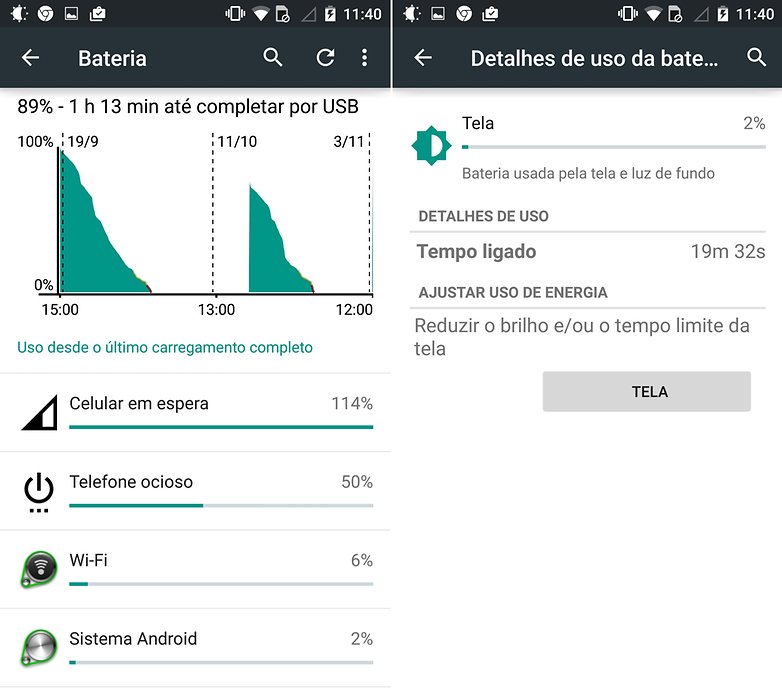 2. Individual permissions for applications
Android users have always had to accept all conditions for the use of a given application without the possibility of restricting certain features or specific accesses. With Android Marshmallow this perk is over. With the sixth version of the OS it is possible to restrict access and permissions for selected applications, such as: you can prevent Facebook from accessing the device's location services.
Of course, there are applications that need certain accesses to work, like Chrome and Foursquare, for example. But for some situations of mistrust this option will help many users.
3. Now on Tap
Now on Tap goes beyond a simple internet search system. This new feature is a prediction mode for Google Now, which runs in the background and makes predictions and directions for the user based on texts, conversations or open web pages on the device. Now on Tap is able to surprise the user by anticipating some information, but unfortunately, it can only be used in English at the moment.
4. Quiet mode with two taps of the volume button
This feature was present in Android KitKat 4.4.4 but it was remodeled with the arrival of Lollipop, which introduced a new scheme of individual volumes for notifications and system sounds. Many users were not satisfied with the change present in the fifth version of the green robot, so Google tried to include it back in Android 6.0 Marshmallow.
Its use is very simple: just press the volume key down until all sounds are silenced, including the vibration mode. In Marshmallow, you can mute all touches by double-clicking the same button.
5. Simultaneous or individual control of sounds
This topic is a continuation of the previous one. As I mentioned above, Lollipop has a more complete scheme to configure the sounds of the device, where three options are accessible from the volume buttons and another four can be adjusted between the system settings.
The Marshmallow integrated all the system's audios to the volume button, including the alarm, notifications, calls, multimedia and vibrations. You no longer need to adjust them individually, just use the physical buttons on the device so that all sounds are adjusted simultaneously.
6. Native support for fingerprint readers
Most manufacturers are adapting to the new trend of fingerprint sensors. One of the new features of Android 6.0 Marshmallow is the full support for biometric readers, including the registration of impressions and authentication of the user's fingerprints.
7. USB Type-C
USB Type-C will become a standard among smartphones very soon, as the Nexus 5X and Nexus 6P were the first Android devices to feature this new feature. The new USB standard is considerably faster than USB 3.0, offering less device charging time and faster data transfer speed.
9. Customize functions of the quick shortcut bar
This function needs further development by Google, but it is already possible to modify some icons of the quick shortcut bar through the existing options. Some of them contribute to a better experience with the software, such as the option to show the battery percentage when the device is charging or to modify the system bar's quick shortcuts.
9. Faster and easier text selection
The Android 6.0 Marshmallow text picker is more practical and faster. When you mark a sentence or text, the options for «copy», «cut» and «paste» appear above the selection in the form of pop up. Thus, it is no longer necessary to go to the top of the application and select the copy button, for example, which already makes the usability of the system more improved.
10. More control over RAM
In Marshmallow there is an option between the system settings called «Memory». In it, we can access advanced settings of the device's RAM memory, for example, consult the individual consumption of different applications. Thus, it is possible to close those that are spending more memory.
11. Google Chrome integrated into applications
This is a great new feature of Android 6.0 Marshmallow, especially for developers. Applications that need to access the web now have a «mini version» of Chrome, capable of displaying the website in question within the application itself. With this, no application will need to be put in the background for Chrome to be launched in search of some information, especially in cases of logins on social networks and application permissions.
12. Share content more easily
Android's default sharing menu has been revamped in Marshmallow. Instead of a drop-down list of apps, we now have a nicer window that displays the latest contacts and apps that offer sharing options, like Google Drive and WhatsApp, for example.
13. Voice commands on the lock screen
In the left corner of the Android Lollipop lock screen there was a quick access icon for the device dialer. In Android 6.0 Marshmallow this option has been replaced by the Google Now icon, represented by a small microphone. So, just pull this option up and use the searcher's voice commands without any impediments.
14. Standard applications
In Android Marshmallow you can choose which applications will be used in specific actions, such as the standard internet browser, the preferred application for calls or SMS. In Android Lollipop only the option for the standard SMS application was available natively.
15. New backup system
Android has always been able to back up important data, such as Wi-Fi passwords, emails, contacts and calendars. With Marshmallow, developers will be able to expand this feature to the data for each installed app, that is, if you sign in with your Google Account on another device, all previously installed apps will be automatically redeemed.
This article was written in partnership with the editor Luis Ortega, from AndroidPIT.es
So, which of these features is the best in your opinion?